Measure & install
To measure and install your wall mural, roller or vertical blinds it's easy! Follow our instructions
and note that with every order you will receive a printed version of the installation guide.
How should I measure my walls for wall murals?
Height measurement - Measure both sides of the wall to determine the tallest measurement. Write down the
higher number. Width - Measure the horizontal distance from corner to corner.Note: We create all custom
size products based on the specific dimensions that you provide us with your order. However, if you prefer,
you may choose to add an extra 2 -3 cm to the height and width to allow for slightly uneven wall dimensions.
How wide are your wall mural panels?
Maximum 1000 mm width.We devide wall mural panels in equal parts:

How to install wall mural?
Proper preparation of your wall is critical! Follow these steps.
STEP 1.
- Remove old wallcovering.
- Remove flaking paint.
- Repair any defects in the wall surface.
- Remove picture hooks, light fixtures, switch plates & outlet plates.
- Remove old paste, grease and dirt with a warm water, rinse well.
- Paint wall if necessary.
STEP 2.
Wall mural installation.
After praparing your wall, put the paste (shipped free with your wall mural) only on the murals.
Measure mural pallet and make a light pencil mark on the wall.
Put the pasted wall mural up onto the clean, dry wall.
Download a more detailed instructions here.
How do I measure my walls for rollers or vertical blinds?
How you measure depends on where you want them to go.
Download a more detailed instructions here.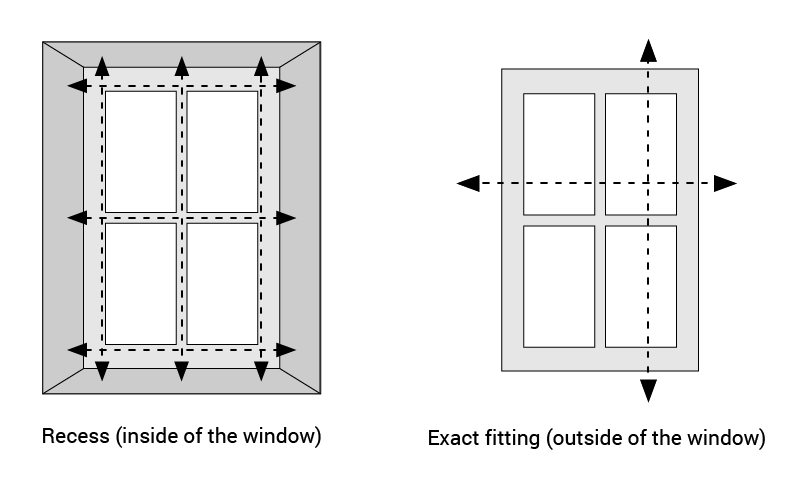 Notice that: Roller & Vertical mechanism adds + 4 cm.
Always double check your measurements before ordering.
How to install roller blind?
Install the roller blind on the wall frame or the wall. Mount the rolled up roller blind
into the brackets. Once the blind is in place, secure the sash cord's control bracket to the window frame.
The sash cord raises and lowers the blind.
For more detailed instructions please click here.
How to install vertical blind?
Measure the points where your brackets will be screwed on either side. Ensure the brackets are positioned
a suitable distance away from any window handles or obstructions to allow the blind to operate smoothly.
Pull the chain to rotate the openings in the stems so they face you. Attach the first vane by gently
sliding it up into the plastic stem until it snaps into place. Repeat until all vanes are attached.
To complete your installation, install the safety bracket to keep the cord fairly tight. Finish by
testing your new blinds. Carefully pull down on the cord to slowly open your blinds, then pull the
cord to completely close them.
For more detailed instructions please click here.